Open enrollment begins February 8th – February 26th .
Employees will call First Financial's Call Center at 1-855-765-4473 Option 6 on their assigned day from 7 a.m. – 6 p.m.  See attached for more information on the call center. If you receive the voicemail, please leave your name, number and a brief message and a First Financial representative will call you back within the hour from a 281 phone number. Patience is appreciated during this time.
It is IMPERATIVE that everyone follows the schedule.  Please do not call ahead of your scheduled date.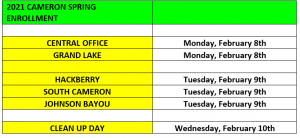 WHAT TO HAVE READY FOR YOUR ENROLLMENT MEETING:
Social Security number and birth dates for all dependents
Any status/life event or address changes
Questions about available benefits